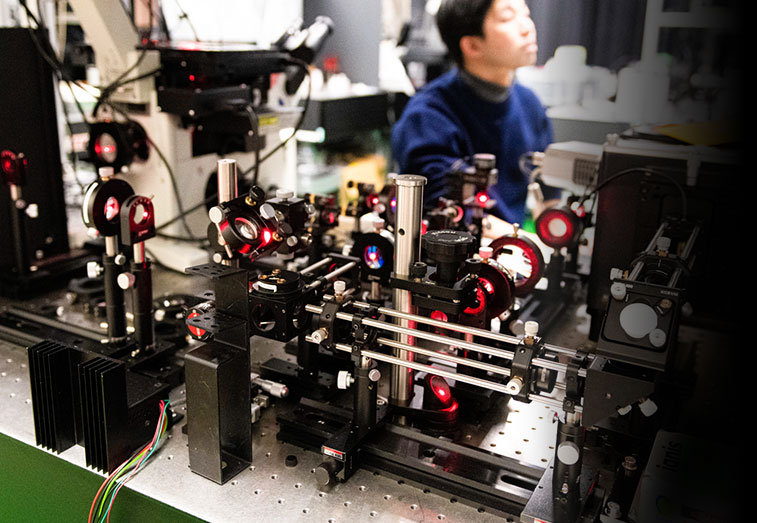 Facilities & Services


Optical Microscopes (Kobe)
The acquisition and analysis of microscopic images are essential aspects of biological research. Optical imaging is particularly important as it allows scientists to visualize the molecular-level activities in living cells. Optical microscopy and its experimental techniques are constantly evolving, as exemplified by the advent of super-resolution microscopy and the development of new probes. One of the strengths of BDR is that the researchers here, with backgrounds in both engineering and biology, have been carrying out the development of microscopes as well as biological research in the same team and they have developed a wide range of high-performance microscopes to date. In order to further build on these strengths, in April 2022, a new team of experts with experience in optical microscopy development has taken the helm to support the BDR laboratories in their research, by launching the Kobe BioImaging Facilities and Factory (KBiIF). They will oversee the management and operation of the shared-use microscopes at the BDR Kobe Campus, and also assist in setting up research environments catering to the needs of specific projects and individual researchers.
Main services provided by KBiIF
Management, operation, and maintenance of about 30 shared microscopes at the BDR Kobe campus
Offer suggestions on microscope setups and experimental conditions to meet particular research objectives
Lending of microscope components and image analysis software
Provide consultations for laboratories that are newly installing microscope systems
Customizations of existing microscopes and development of new microscope systems to meet the needs of projects and individual researchers
Hold seminars and workshops on the use of microscopes