As a government-funded research institute, the BDR committed to communicating and sharing information on science to the public, from the latest scientific findings made at our Center to science you can learn at school, to promote STEM education as well as public awareness of our research. There are events throughout the year where participants can interact, learn from and have fun with BDR researchers.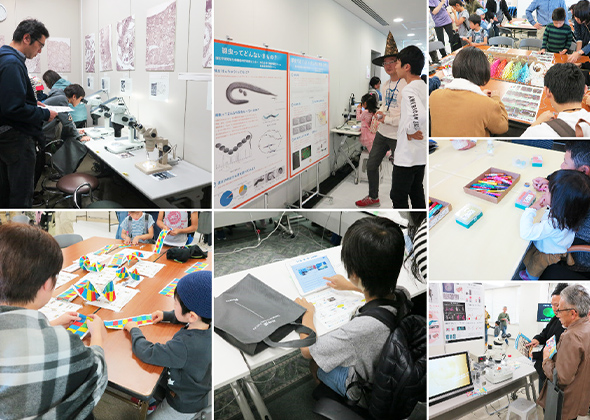 The RIKEN BDR actively organizes a variety of programs for the Open Day/House events held once a year at each of the RIKEN campuses where BDR labs are located—mainly, Kobe, Osaka and Yokohama. The Open Day/House is the annual largest event that is opened to the general public that gives BDR the opportunity to showcase its laboratories and experimental equipment, as well as share our research activities to the local community. There are a wide range of events for visitors to enjoy, including poster displays organized by researchers, facility tours and hands-on programs.
The 2020 and 2021 Open House events were held online.
Programs for High School Students
A one-day hands-on lab experience program for high school students is organized by RIKEN BDR every year. The program generally includes a lecture by a BDR researcher and a tour of their laboratory, as well as a practical session, where students will get the chance to carry out a series of experiments intended to give students the chance to experience the scientific method. The program is currently offered only in Japanese.
UPCOMING EVENTS
There are currently no scheduled events.
PAST EVENTS
2022
Category
Date / Time
Place
Title
for Public

[Date / Time]

Oct. 29, 2022

[Place]

Kobe

[Title]

RIKEN Open Day in Kobe