Biosystems Dynamics to be Elucidated, Reproduced, and Controlled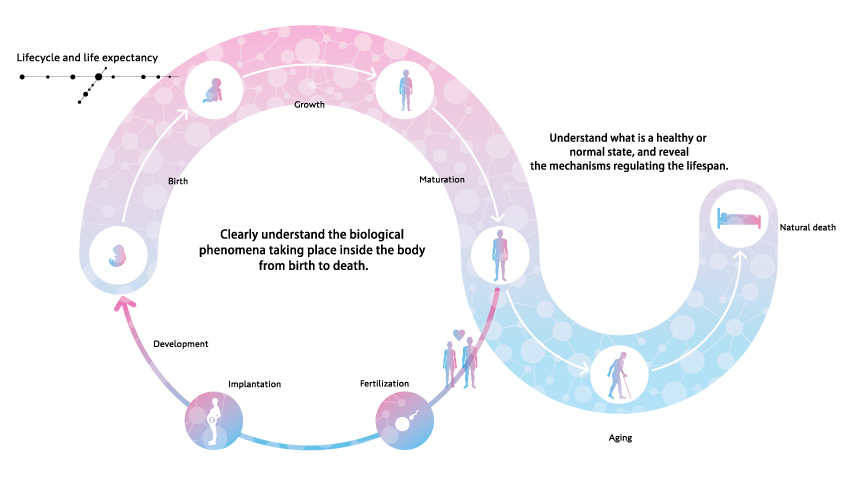 The life of an organism is supported by a concerted, interhierarchical system linking together molecules, cells and organs. This dynamic and robust system can maintain homeostasis amidst the fluctuations of internal and external environments. The breakdown of this system leads to death. Research and development is required to observe what is happening inside our bodies at the molecular to individual level,during development, growth, aging and death. Researchers at the BDR are striving to clarify, reproduce and control the biological functions that support all stages of the life cycle, and contribute to health and longevity by advancing our understanding of developmental and aging phenomena, and developing regenerative medicine and diagnostics.
Cells and Molecules - The essential elements and functional unit of life
An approach to identify the numerous cells in a body, elucidate the structure and function of molecules, and promote data-driven science assisted by artificial intelligence.
Organs - Multicellular systems to support biological function
An approach to elucidate the mechanisms of organogenesis, regeneration and inter-organ communication through observations of whole cells in an organ and the organs in a living body.
Lifecycle - Maintenance and failure of biosystems dynamics
An approach to understand the nature of growth and aging in humans through the study of the interhierarchical systems underlying development, growth, maturation, and aging of multicellular organisms.