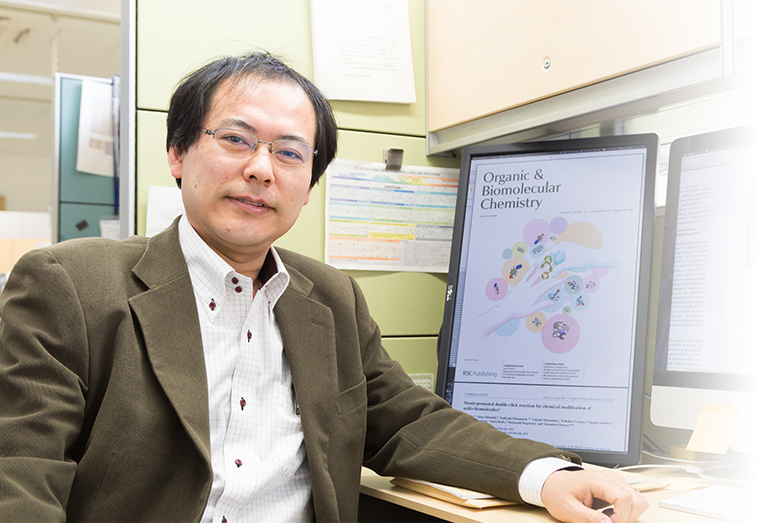 Team Leader


Takamitsu Hosoya

Ph.D.

Laboratory for Chemical Biology

LocationKobe / MI R&D Center Building

E-mailtakamitsu.hosoya[at]riken.jp

Please replace [at] with @.
Promotion of life science and drug discovery researches by world's first innovative chemistries
In order to promote life science and drug discovery researches, it is necessary to develop new methods and tools based on innovative chemistries. Through collaboration researches with many scientists of different disciplines, we are trying to develop 1) useful molecular probes for in vivo imaging of target molecules, 2) novel synthetic strategies for functional molecular probes, 3) chemical tools and methods that facilitate chemical biology researches, and 4) efficient synthetic methods for valuable compounds.
Research Theme
Development of world's first strategies for efficient molecular probe synthesis
Development of practical molecular probes specific for target molecules
Development of sequence specific chemical modification methods for biomolecular probe synthesis
Development of novel synthetic methods of valuable compounds
Members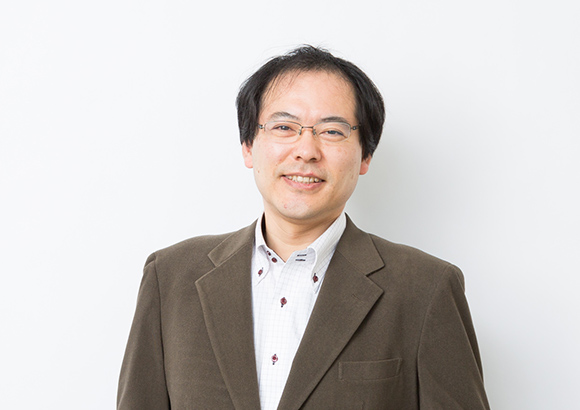 Team Leader

Takamitsu Hosoya
takamitsu.hosoya[at]riken.jp


(Please replace [at] with @)
Concurrent Post: Professor, Institute of Biomaterials and Bioengineering, Tokyo Medical and Dental University
Research ScientistKenji Watanabe
kenji.watanabe.vs[at]riken.jp
Postdoctoral ResearcherDaichi Nakamura
Expert TechnicianEmi Hayashinaka
Technical Staff IWakiko Arakaki
Temporary EmployeeYasuhiro Wada
Temporary EmployeeKayo Onoe
Administrative Part-time Worker IIMaya Mitsuno
Junior Research AssociateKunpei Kawakatsu
Temporary StaffingJunpei Tsuda
Temporary StaffingTadashi Takimoto
Senior Visiting ScientistYasuyoshi Watanabe
Senior Visiting ScientistYosky Kataoka
Senior Visiting ScientistHisashi Doi
Senior Visiting ScientistYi Long Cui
Senior Visiting ScientistKei Mizuno
Senior Visiting ScientistMitsuyo Maeda
Visiting ScientistTakashi Niwa
takashi.niwa[at]a.riken.jp
Visiting ScientistYuto Sumida
Visiting ScientistIsao Kii
Visiting ScientistYuta Uetake
Visiting ScientistZhouen Zhang
zhang.zhouen[at]a.riken.jp
Visiting ScientistHidefumi Mukai
Visiting ScientistKayo Takahashi
Visiting ScientistHiroshi Mizuma
Visiting ScientistKota Mori
Visiting ScientistShota Warashina
Visiting ScientistShoko Nomura
Visiting ScientistTsuyoshi Tahara
Visiting ScientistYasuhisa Tamura
Visiting ScientistMasanori Yamato
Visiting ScientistToshiyuki Goto
Visiting ScientistYuzuru Sato
Visiting ScientistHiroyuki Neyama
Visiting TechnicianShino Owada
Visiting TechnicianSally Danno
Visiting TechnicianKumi Tsutsumi
Visiting TechnicianChie Ueta
Visiting TechnicianAsami Eguchi
Visiting TechnicianMayako Okamoto
(* Concurrent; Please replace [at] with @)