RIKEN BDR Symposium 2022
Global exchanges on topics related to emergence of higher-order properties in living systems
Apr. 11, 2022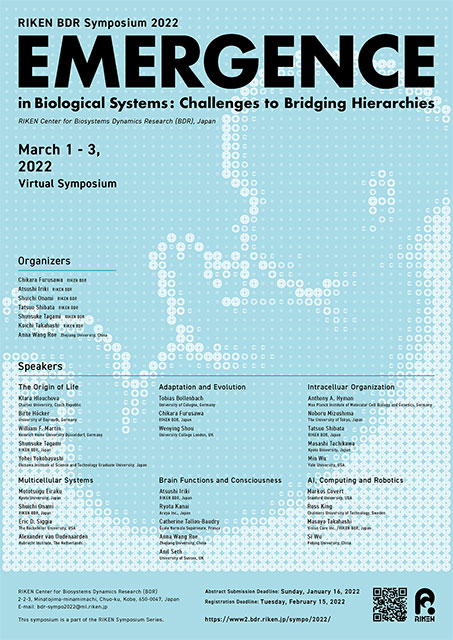 The RIKEN BDR Symposium 2022 entitled, "Emergence in Biological Systems: Challenges to Bridging Hierarchies" was held from March 1 to 3 in a virtual format. Over 350 people from 25 different countries, including those in the Asia-Pacific region, Europe, North America, and as far as South America, registered to participate in this year's Symposium, which was organized by Chikara Furusawa, Atsushi Iriki, Shuichi Onami, Tatsuo Shibata, Shunsuke Tagami, and Koichi Takahashi from RIKEN BDR, and Anna Wang Roe of Zhejiang University, in China.
The three-day meeting commenced with opening remarks by Dr. Eisuke Nishida, director of the BDR, who welcomed the participants to the Symposium and encouraged particularly the younger researchers and students to take the opportunity to reach out to and interact with the leading scientists presenting at the meeting. The Symposium covered a broad range of topics related to the emergence of higher-order properties in living systems from the origin of life, adaptation and evolution, intracellular organization, and multicellular systems, to brain functions and consciousness, and AI, computing and robotics. The program included talks that were given online using Zoom by 26 invited speakers working at the forefront of their respective fields as well as seven researchers selected to speak from the pool of submitted abstracts. The poster sessions were held using the SpatialChat platform and featured 57 presenters sharing their recent findings to other participants who virtually dropped by their posters. Registered participants were also able to access most of the talks for a limited time after the meeting was over, which allowed those taking part from different time zones to view the talks at a more convenient time.
The RIKEN BDR Symposium is organized annually to facilitate the global and timely exchange of new findings on fundamental themes related to the BDR's research mission and the research carried out by the laboratories at the Center. Next year's RIKEN BDR Symposium is scheduled to be held on-site at the BDR Kobe Campus from March 7 to 9, 2023, with the theme, "Transitions in Biological Systems".