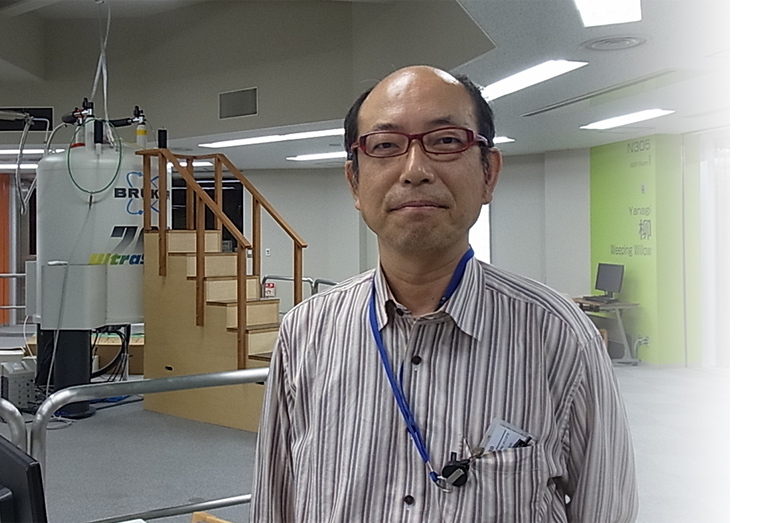 Unit Leader


Toshio Yamazaki

Ph.D.

Laboratory for NMR Engineering and Structural Science

[Closed Mar. 2023]

E-mailtoshio.yamazaki[at]riken.jp

Please replace [at] with @.
We are developing experimental technologies and instruments for nuclear magnetic resonance (NMR) spectroscopy. Ultra-high magnetic fields produced by high-temperature superconductors leads to higher NMR sensitivity and resolution. We are working to enhance the performance of the spectrometer to accommodate higher magnetic fields and frequencies. A higher magnetic field will yield more advantages. We will develop new techniques for detecting the structure and movements of molecules as well as develop new types of magnets and detection probes enabling analyses of wider range of samples and conditions.
Research Theme
Nuclear magnetic resonance
photoisomerization
High-temperature superconductivity
Protein folding
Selected Publications
Wu N, Kobayashi N, Tsuda K, et al.
Solution structure of Gaussia Luciferase with five disulfide bonds and identification of a putative coelenterazine binding cavity by heteronuclear NMR.
Scientific Reports 10, 20069 (2020)
Ohyama T, Takahashi H, Sharma H, et al.
An NMR-based approach reveals the core structure of the functional domain of SINEUP lncRNAs.
Nucleic Acids Research 48, 9346-9360 (2020)
Guzmán-Afonso C, Hong YL, Colaux H, et al.
Understanding hydrogen-bonding structures of molecular crystals via electron and NMR nanocrystallography.
Nature Communications 10(1), 3537 (2019)
Nagashima T, Ueda K, Nishimura C, Yamazaki T.
Structure-Correlation NMR Spectroscopy for Macromolecules Using Repeated Bidirectional Photoisomerization of Azobenzene.
Analytical Chemistry 87, 11544-52 (2015)
Hashi K, et al.
Achievement of 1020 MHz NMR.
Journal of Magnetic Resonance 256, 30-33 (2015)
Members
Senior Technical Scientist