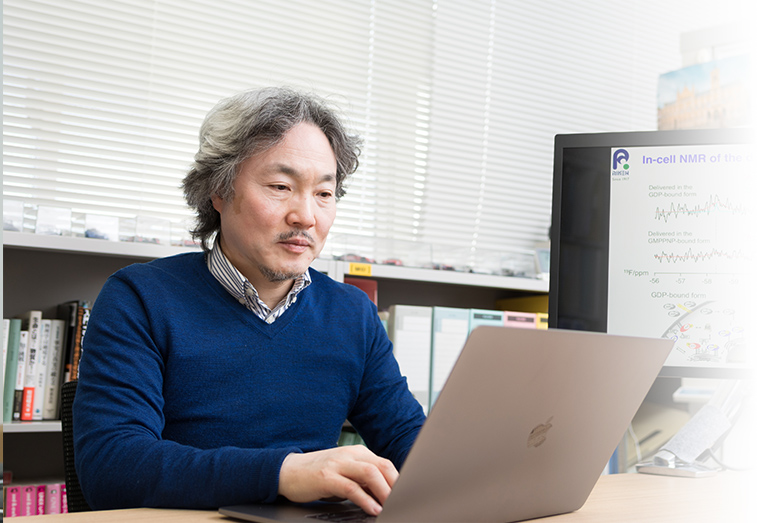 Team Leader


Takanori Kigawa

D. Sci.

Laboratory for Cellular Structural Biology

[Closed Mar. 2023]

E-mailkigawa[at]riken.jp

Please replace [at] with @.
Understanding biological phenomena based on the structure and dynamics of biomolecules in cellular environments
In actual biological cellular environments, biomolecules such as proteins are working dynamically and co-operatively, generally surrounded by high concentrations of macromolecules, so-called "macromolecular crowding" and also "confined" by/in the plasma membrane and/or cellular organelles. In recent years, it has become important to directly investigate the structure and the dynamics of biomolecules in cellular environments because protein behaviors in cells are, at least in some cases, different from those in a dilute, homogeneous solution. We will elucidate cellular events at atomic resolution by analyzing structural dynamics of biomolecules in the cellular environment mainly by using NMR spectroscopy integrated with information science technologies. We will also develop and improve the technologies for sample preparation, stable-isotope labeling, NMR measurements, and data analyses in order to address the issues of low sensitivity and resolution from which NMR measurement of biomolecules in cellular environments usually suffers. In addition, based on our findings, we will develop new technologies by taking advantage of biological functions, for example, the development of technologies for bioelectricity generation based on the mechanisms of energy generation in the living cells.
Project
NMR analysis of biomolecular structural dynamics in cellular environments
Development of NMR-related technologies with information sciences
Development of technologies for stable-isotope labeling of proteins using cell-free synthesis
Development of technology for bioelectricity generation by taking advantage of biological functions
Members
Senior Research Scientist