Joint Symposium between RIKEN BDR and Institute for Protein Research, Osaka University
Apr. 12, 2023
From February 21 to 22, the RIKEN BDR and the Institute for Protein Research (IPR) at Osaka University held a joint symposium entitled "Dive into Data of Life," which was held at the Senri Life Science Center in Toyonaka, Osaka. This symposium, attended by 118 researchers and students mainly from BDR and IPR, was organized by Professor Mariko Okada, Director of IPR, and Mikako Shirouzu and Makoto Taiji, team leaders of BDR's Laboratory for Protein Functional and Structural Biology and Laboratory for Computational Molecular Design, respectively.
As institutions for life science research, both the IPR and BDR share several common research interests in revealing the fundamental principles governing biological processes at work in living systems, particularly in areas focusing on the subcellular level, using approaches such as protein structural biology, computational biology, systems biology and mathematical sciences.


The IPR x RIKEN BDR symposium featured a line-up of six speakers from IPR and five from BDR, covering topics from the design principles for life and cornerstones of data-driven research, to the control of biological networks and elucidating bimolecular dynamics. There was also a tour of IPR's experimental facilities organized for participants from the BDR.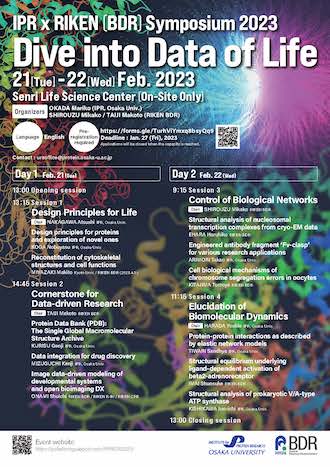 This symposium was the first joint initiative between the IPR and BDR and aimed to be a starting point for actively promoting research collaborations between researchers of the two institutions and working together moving forward at a time where we are seeing the field of molecular life science undergoing a major, rapid transition with the technological advances in cryo-electron microscopy and the development of machine-learning based approaches such as AlphaFold2.
A second joint symposium is also being planned for next year to further build on this institutional partnership.