Organoid Symposium convenes in Kobe
Apr. 5, 2023
The RIKEN BDR and the Center for Stem Cell & Organoid Medicine (CuSTOM) at Cincinnati Children's Hospital Medical Center co-hosted the fourth RIKEN BDR-CuSTOM Joint Organoid Symposium, "Integrated Organoid Science: Stem cells, Engineering, Medicine," from February 15 to 17 at the RIKEN Kobe Campus. A total of 216 participants from Japan and around the world, including Australia, Austria, Germany, India, Korea, Malaysia, Taiwan, Thailand, the UK and the USA, were in attendance at the Symposium, which was organized by Mitsuru Morimoto, Minoru Takasato, Takashi Tsuji from RIKEN BDR and Michael Helmrath, Takanori Takebe, James M. Wells and Aaron M. Zorn from CuSTOM.
Organoids are three-dimensional multicellular systems derived by the self-organization of stem cells and have structures resembling those found in real organs. There has been an explosion of research related to organoids in recent years, as organoids have the potential to yield new insights into human development and disease processes, as well as for applications in drug development and regenerative medicine. There still remain several key issues that need to be resolved, particularly when considering implementation in clinical settings.
The 2023 Joint Organoid Symposium brought together scientists and students from fields of stem cell biology, engineering, chemistry and information science to share the latest insights and discuss future directions and tasks in organoid research. The scientific talks at the 2023 Joint Organoid Symposium officially got underway with the Keynote Talk by Professor Mitinori Saitou, director of the Institute for the Advanced Study of Human Biology (ASHBi), Kyoto University, who shared the current state of his research related to the in vitro reconstitution of mammalian germ-cell development. The program also featured 20 invited speakers, including faculty from CuSTOM and BDR as well as leading scientists in organoid-related research from other institutions around the world, who gave talks in the topical sessions covering brain organoids, tissue stem cell-derived organoids, basic mechanisms of pluripotency and self-organization, understanding and regulating self-organization, engineering approaches for culturing organoids, and modeling of development and diseases of different organ systems of the body. There were also 14 other researchers who were selected from the submitted abstracts for the Rising-Star Talks that were placed accordingly in the various sessions.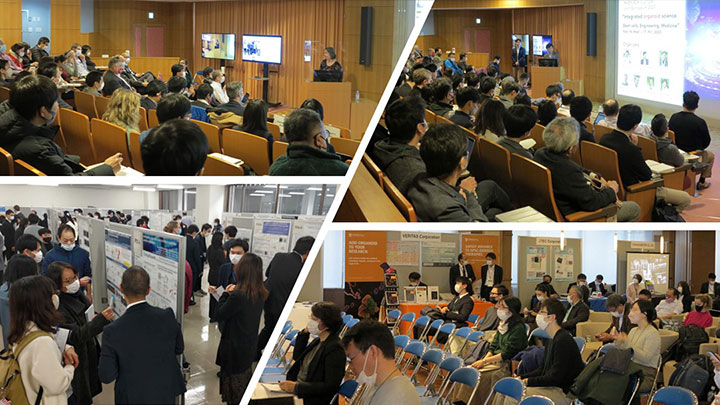 The symposium wrapped up with closing remarks from Dr. Zorn from CuSTOM, who mentioned that they would like to build on the successes of the past four joint symposia on organoid research by CuSTOM and BDR, and consider the next phase by bringing together a larger organoid research community by reaching out to the ISSCR to organize a satellite symposium as part of their annual meeting.
"The last joint organoid symposium that was to have been held in Kobe in 2020, unfortunately, had to be postponed and then later switched to a virtual format due to the pandemic, so it was wonderful to be able to finally welcome our collaborators from CuSTOM as well as other leading scientists and young researchers from around the world to meet in Kobe once again to discuss the exciting advances taking place in organoid research," commented one of the BDR organizers, Dr. Morimoto. "This meeting has grown organically from the collaborations between the two institutions, and I look forward to seeing how it evolves over the next few years."
The 2023 Joint Organoid Symposium was partially supported by donations from a private donor and 12 different companies, of which six companies were also present at the venue as exhibitors.